January tends to be a financially stressful time for couples. In couples counseling, we often spend January navigating the effects of Holiday spending, end of year financial analysis (where the "big picture" of how you did financially last year becomes unavoidable), new financial demands in the new year, and differing financial goals for the new year.
Some of these stressful conversations are difficult, but ultimately do no damage to the relationship. One type of stressful financial conversation is the exception to this and has the potential to do great damage to the relationship.
What if you have been hiding your financial behavior from your partner or spouse?
Hiding relevant information or behavior from your partner will likely be considered betrayal by them. Whenever we break the explicit or implicit (unspoken) rules of our relationship, it is a betrayal.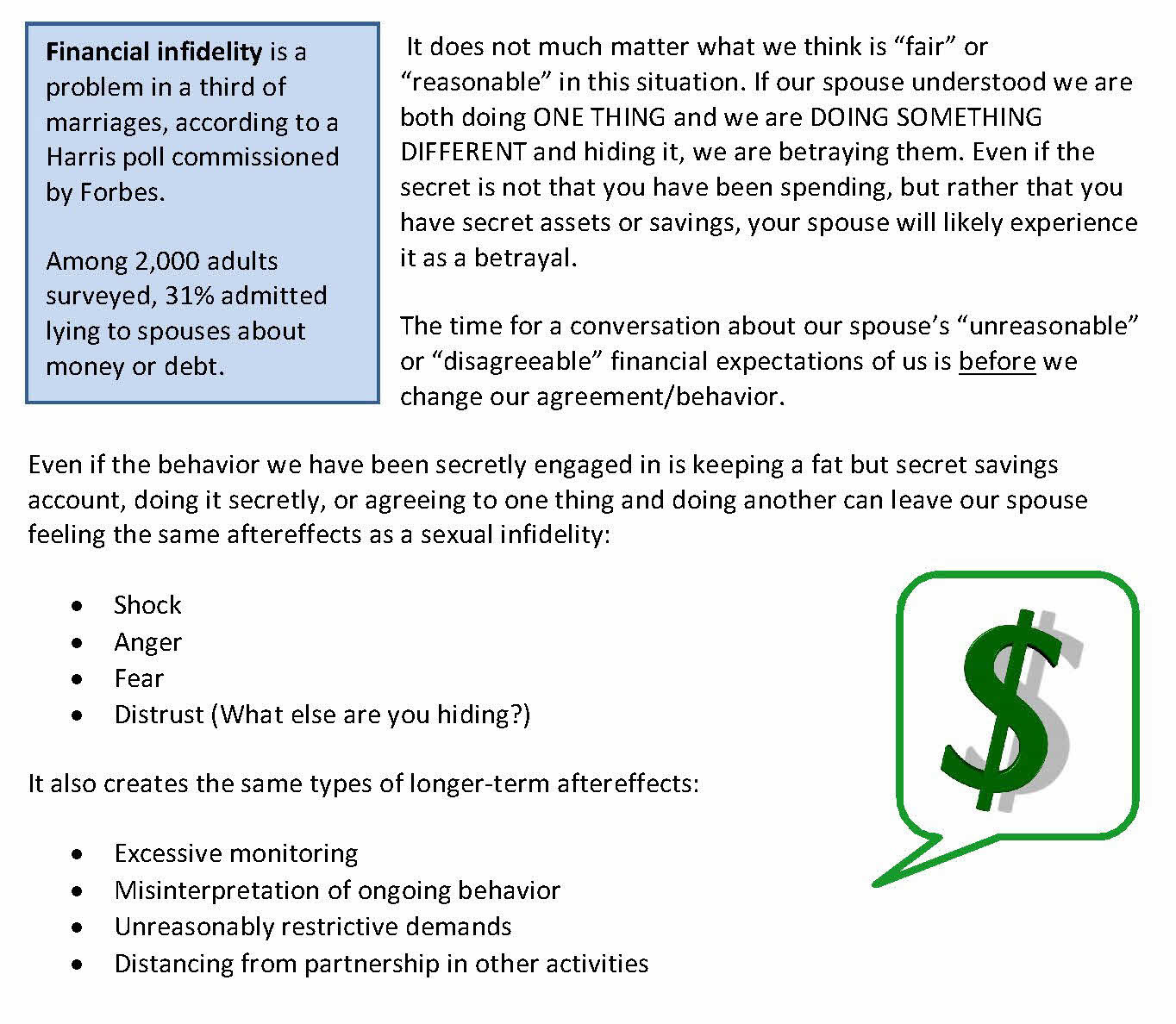 In my couples counseling practice, I have seen a variety of explanations for why someone commits financial infidelity.  Here are some recurring themes I see in couples counseling for why someone commits financial infidelity:
Feeling like your spouse is not open to your influence or input about money management.
Feeling over-controlled, "nit-picked", or over-managed about money by your spouse.
Fear of your spouse's judgement of you if you disclose a spending problem.
Disagreeing with your spouse's financial goals and feeling you can't productively discuss it with them.
The theme running through these reasons for financial infidelity is a feeling that your spouse is not open to your influence about money (how much to spend, what to spend it on, how much to save, what to save for), and a belief that it "won't do any good" to talk about it. Both of these beliefs are a good reason to seek out some help with your relationship.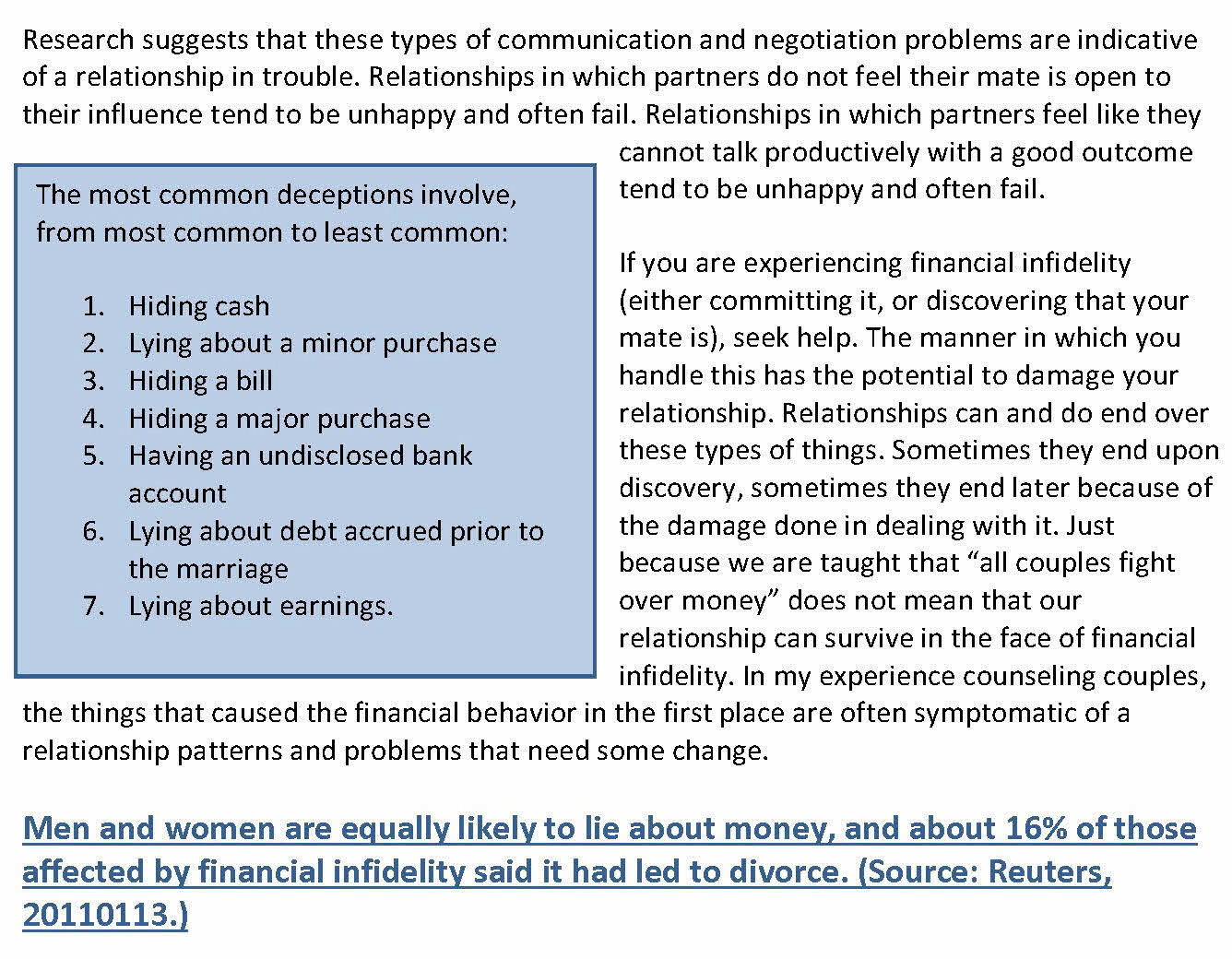 Couples counseling can help you navigate this without damaging your relationship further. The issues causing this to happen in the first place will show up in other areas of your relationship, too. It might not be only about money. You might also feel that you can't talk to your spouse and have a good outcome regarding the differences in your idea of good childrearing, for example.
Dave Ramsey talks about money conflict
In my experience as a couples counselor, I find that people expect that they would feel less betrayed by financial infidelity than they would by sexual infidelity. When betrayal occurs, however; that's not how it goes. People feel just as wounded by different types of betrayal.
When partners break the spoken or unspoken agreements that form the foundation of their relationship, it damages the relationship. It does not appear to matter what the nature of the betrayal is. If someone feels betrayed, they feel betrayed. It does not tend to happen in degrees. There are no "worse" or "less serious" forms of betrayal. I know that doesn't tend to fit what we think or expect. Apparently, our expectations on this are not very accurate predictors.
When I counsel couples experiencing betrayal of any kind, I have noticed that the effects can be similar, no matter the nature of the betrayal. Couples counseling can help repair the damage done by betrayal, before our reaction to the betrayal makes it even worse. I find that couples who seek couples counseling quickly following a betrayal have less likelihood of further damaging the relationship with their reactions to the betrayal.
Financial infidelity is a good example of the truth that, what we expect to feel about something, isn't exactly what we feel when it happens.
Kathy Cato
Couples Counselor, Raleigh NC
919-710-7145